💛Communication is not about teaching a language, it's about connection
I commonly hear this: "I don't know what to talk to my baby. It's not like they understand…"
Personally, ever since my little one was a newborn, I would narrate what I'm doing with the hope of expanding her vocabulary. Now as I reflect on the whole topic of communication, it's great if she picks up a wide array of words at a young age but it would not matter if she doesn't know that she is deeply loved.
Communication to me really is all about connection, carefully building and nurturing the precious bond with the child. As a trainee mental health counsellor, I see firsthand how a parent-child attachment or lack of, can make or break a person.
💛"Put yourself in her booties" and "Listen, listen, listen"
After being a new parent for 1.5 years, I join the army of parents in agreeing that this is hard work!
That said, I also think that being a newborn baby is not any easier. Sure, it seems like we are doing all the work, but they are experiencing a whole new world with so much unknown, constant changes and so much to learn. Resources that shed light on the developmental leaps my baby is going through enables me to empathize with her and be able to see the big world from her eyes.
The biggest misconception about communication is that it's all about what you say. I beg to differ that listening is the more important skill here. I love it when my husband calms our daughter down, hand on shoulders, eyes engaged, and he says "What do you want to tell me? Dada is listening." And you see the sparkle in her eyes and the joy of being seen and heard.
💛 Practical things I've learnt
Some things that I've learnt along the way that has helped me connect with my little toddler:
They love songs! Sing at every chance you get – the best thing is they won't judge if you're out of key!
Ask them questions like what's their favorite part of the day and pause for their response – even if they can't answer, it makes them feel respected that their opinion matters, and they also learn basic communication styles
Words matter (Speak kind words) and non-verbal communication matters (Keep calm)
Be aware of how you communicate in the home – they really do absorb everything! (My little girl calls her dada in a bossy tone and calls her mama in a loving tone – my husband likes to remind me that it's a reflection of how we call each other. I secretly think he's right!)
Set aside small pockets of time to be present every day – whatever it is you need to do on your phone can wait, the chores can wait, your little one needs you.
In a nutshell, communication with a baby is about spending time connecting, listening, and continuously learning about the person. It's not very different from communication with adults now, isn't it? 😉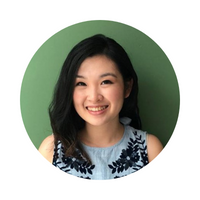 Author: Irene Chin
Irene is an overjoyed millennial mother of a 1.5 year old. She's got apps and portfolios of social media accounts for anything you need to raise a baby. She is a trainee mental health counsellor with a passion to see marriages, families and children thrive.