Cultural history has long advocated that the value of submission and respect to one's husband is integral to a healthy, sustaining marriage; but it is increasingly challenging to make sense of it in today's world of empowering women and gender equality.
What happens when the wife is the main breadwinner for the household? Does that change the dynamics of decision making for the family, and can the wife make the key decisions and yet fully submit to her husband?
In fact, it is not uncommon today to hear women declaring with conviction, 'I will respect my husband if he is deserving of my respect,' or 'As long as he loves me the way he should, then I will respect him accordingly.'
But the moment we begin to attach caveats to respect in marriage, we find that it becomes a slippery slope which tries to anchor the values we bring into relationship on our own standards.
How then do we then deal with the complexities that arise in very real challenges on the topic of respect in marriages today?
I, myself, have struggled with what it means to truly respect my husband in every season and circumstance. Especially when I don't always agree with him! In my own journey of discovering what respect look like in marriage, I have found some guiding principles along the way that has helped me stay grounded.
1. Honor
At the heart of respect, is honor. Whether I agree or do not agree, or whether I feel the need to hold my ground on my own opinion and decisions, my behavior and approach needs to be rooted in honor.
Honor protects my husband
Especially in the public sphere when it is very tempting to address him in public for a mistake, or rant about him to a friend or family member. There are few things more destructive to trust than dishonoring my spouse, especially in public. There are close circles of trusted safe spaces in friends I could share my heart on issues but never on the public front.
Honor guards his dignity with my chosen words when I present my heartfelt perspectives on various issues especially when he is clearly wrong! In fact, honor starts from a position that his viewpoint has value and that he has good reason to suggest it, but that there is room for refinement and re-evaluation to happen in his thought process.
In this way, honor requires humility.
Honor also recognizes the worth and value of my relationship in my marriage.
It strives to put that appreciation, expressed in remembering that we are united on the same team to build a home that is safe and enriching to those found within.
When I cherish something with great honor, the value I attach will guide my actions, my tone, and my concern for it. This appreciation will overflow and breathe life into every aspect of our marriage, especially when the inevitable storms hit.
2. Prayer
Why does respect need prayer?
Because marriage is hard work and persevering through difficult seasons is sometimes beyond our capacity and is not always something that comes naturally to us.
Why should I submit when I think I know better? Why should I 'give in' to a decision that involves the children when it feels like I have been more involved in their daily life?
These are not easy questions to answer, nor find solutions for, especially when it pits two opposing ideas directly against each other, and inadvertently requires a 'winner' and a 'loser'. So, I pray.
What prayer does
Prayer gives me access to a power and strength that is beyond my own capabilities. Prayer helps me to see when I'm holding on too tightly to a preference that is not important in the big picture. Prayer gives me insight on how to approach a disagreement with honor, and inspiration on how to help my husband see my perspective when it's important enough.
Prayer sometimes even shouts the right answer into the heart of my husband without me having to say or do anything or throw a fit! There have been so many occasions that the next morning, my husband will suddenly change his mind and heart!
Ultimately, prayer reminds me that there is a higher power is in control when I don't have the answers and helps me to know when to let go and when to hang on for dear life to things that need me to stand firm on.
3. Hope
Finally, respect is anchored on hope.
Most surely, there are arguments and instances where I feel that my husband is unworthy of respect at that moment in time. And there are seasons where the last thing I want to give is respect. But I also know that a core value that God has placed in marriage is respect for the husband, and so I hold fast to the belief that there is reason for this value to be upheld in the home, no matter what. This needs hope.
Not a flimsy, emotional hope that something will change because we wish for it to change, or even that our actions will trigger transformation. But a firm hope that as we build a marriage that is based on God's ways and instructions, there is a higher power that begins to align the hearts of the husband and wife to each other in love and respect.
What it means in the chicken and egg dilemma
In conflict, I choose to respect my husband first, and believe with hope and conviction that God will help him to be more and more worthy of respect as he moves forward in his own personal journey. In the same way, as he chooses to love me despite all my own flaws, and I with him, our love for each other grows through these refining, gracious and persevering seasons.
In actuality, it is not our actions that directly cause this result. It is our hearts' position of acknowledging what God has designed for marriage. This opens a door for His power to transform our home into one filled with honor, love and respect.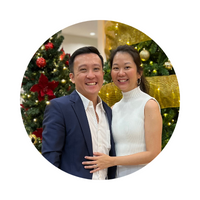 Author: Sarah Jane Cheong
Sarah is a mother of three girls who finds solace in watching Korean Dramas with her lovingly obliging husband and is recharged by time sneaked out on her off days to have a quiet meal by herself away from the world.