Recently, our family watched a movie entitled 'YES DAY!' It was quite a fun show for the family. We were a little nervous about it when the children asked to watch it at first. If you know the plot, a mom and dad who usually say 'no' decide to 'yes' to their three kids' wildest requests for a day.
THE MOM
The mom in the movie, reminded me of myself. Before marriage, I considered myself as a brave and adventurous one. I travelled on my own, loved rollercoasters, loved to try new food and was always up for new life experiences.
However, when the kids came along, I had to become the responsible adult to ensure my children's safety and success.
I WAS MISSING THE POINT
So, just like in this movie, the mom was a great mom but had become someone that was not viewed as someone fun or connected with her children. It's really easy to end up traveling on that disconnected road when we are so fixated in getting tasks done. I know I get pretty impatient when I want the kids to go to bed so I can get back to what I'm halfway doing.
What I forget is that these are the moments for connection. If I'm so fixated on getting something done now and missing the stories about what they learnt today, their current feelings, or the things they saw on YouTube today, then, I'm missing out on the opportunities to know my child better, to be his or her listening ear, biggest cheerleader, counsel, safe refuge.
WHAT HAPPENS THEN
In the long run, connections may grow weak and when they really need guidance in the turbulent growing years, I might not be able to make it to their "Go-To" list.
So, here are some reminders to self on how to build the connection while they're young. A lot of these are tools I'm constantly learning from the Toolbox course.
NOT EVERYTHING HAS TO BE A 'NO'. I CAN USE 'YES' INSTEAD
Kid: Can I have ice-cream now?
Normal Me: No, we're about to have dinner.
Intentional Me: Yes, let's have ice-cream after dinner, shall we?
LISTEN TO UNDERSTAND AND NOT TO NAG
Kid: You know, mum… today I got scolded by my teacher.
Normal Me: What did you do?!
Intentional Me: Really? What happened?
VISIT THEIR WORLD
Kid: Mum, did you know that female quails have specks on their necks?
Normal Me: I'm really busy now. Have you done your homework yet?
Intentional Me: Wow! How did you know that?
WHAT DOES THIS DO?
Little changes in the responses will help the kids feel like I'm on their side and that keeps us connected.
What are some ways you stay connected to your kid?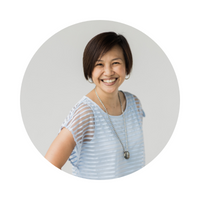 Author: Luisa Yeng
As a Parent Educator and Coach, she finds fulfilment in equipping families with tools and solutions to enjoy their family journey.
When given any opportunity, she hopes to share with married couples and families that you don't have to be a super being to be a hero. All it requires is love, commitment and a workable plan.