So, it's back to online learning for students.
For many parents, there's a fear that the child will be having too much screen time which could be unhealthy. But let's face it, technology is here to stay and we don't have the time to be continuously monitoring our kids.
Just like a baby by the poolside. You can't keep the child protected from drowning all their life, but you can teach them to swim!
How do we make sure our kids make good choices and get the best learning benefit from technology?
1. Have a time limit on usage
For younger kids, consider aiming for less than two hours a day, not counting online schoolwork. The time limit increases according to the age and stage, and ability to self-regulate.
2. Encourage creativity and expression as part of your child's media use.
Some helpful apps include the Paper app that helps practice artistic skills, ScratchJr which teaches kids how to code, and YouTube videos which offer resources to research their topic of interest.
3. Practice active mediation some of the time.
For younger kids, treat their cartoon like a picture book – point out pictures and name them. For older kids, discuss things they've seen and learnt online today. This will help us stay connected and encourage good habits on social media.
4. No devices up to an hour before bedtime.
Don't allow devices in bedrooms overnight. It will help curb tendencies toward excessive use.
5. Prioritize physical exercise.
Ensure that they move their bodies every day, ideally outside.
GETTING THERE
Getting boundaries in place can be hard, but once they are there for a while and the kids are used to them, family life will be calmer and easier.
In the Parenting Toolbox course, we share a Technology Contract that you can introduce to your family. Find out when is the next course so you can equip yourself further for this very challenging and at the same time very rewarding journey as a parent.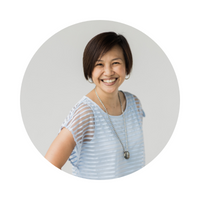 Author: Luisa Yeng
As a Parent Educator and Coach, she finds fulfilment in equipping families with tools and solutions to enjoy their family journey.
When given any opportunity, she hopes to share with married couples and families that you don't have to be a super being to be a hero. All it requires is love, commitment and a workable plan.