If you feel like you've used every discipline method you know and the threats no longer have any effect on your strong-willed child; it's time to pause and reflect.
In Dr Deborah MacNamara's book, Rest, Play, Grow, she points out that with enough force, threats and punishments, we can make strong-willed kids comply with our rules, but this often leads to resentment and confusion, eroding deep connection.
WHAT IS HAPPENING?
What often happens when a child misbehaves is that parents try to take control over the situation. When a child feels controlled by others, a strong-willed child will have a double defensive reaction against feeling controlled by others. This reaction in the long run will wound the parent-child relationship and may leave the relationship hanging by the thread in the later years.
What we really need to focus on here is building back the trust and connection between the parent and child. When your child feels connected to you, he is much less likely to violate the boundaries you've set for him.
HERE ARE SOME TIPS ON WHAT WE CAN DO
Focus on nurturing the relationship.
There is no short cut for this. This requires intentional TIME TOGETHER. Schedule in device-free time together, doing something they enjoy. When we have our children's hearts, we can parent and lead them better.
Actively LISTEN.
Whatever your child is struggling with, whether it is getting homework done, not wanting to attend a particular class anymore; sit down and try to listen to the real reason. When they feel understood and heard, and that you are on their team– lovingly wanting what's best for them, they will begin to cooperate.
YOU'VE GOT THIS!
Parenting is hard work together with a lot of heart-work. It may take a while to make this a natural way of handling your strong-willed child, but as with all things, it takes practice. Little improvements will go a long way in view of the big picture.
At the Toolbox course, there is a whole session tackling kids' big feelings, dealing with anger, learning to listen to their emotions and ways to connect with our kids. Check out when the next Toolbox course is available.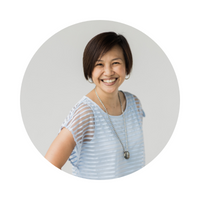 Author: Luisa Yeng
As a Parent Educator and Coach, she finds fulfilment in equipping families with tools and solutions to enjoy their family journey.
When given any opportunity, she hopes to share with married couples and families that you don't have to be a super being to be a hero. All it requires is love, commitment and a workable plan.