I came across this quote, "Anyone can be a father but it takes someone special to be called a dad." So, what's the difference? Isn't it a play of words?
Well, a dad seems to be more than just the role of a father, it's a title given by the child who admire the man that nurtures and shapes them.
So How Can We Move From Being Merely a Father to a Dad?
To me, a dad is one that operates beyond transactional, recognizing the importance in the relational level as well. However, the highest level is a dad who operates in the transformational level.
Transactional: You are a dad who takes responsibility for your child's basic needs like food, shelter, and education.
Relational: You are a dad who takes effort in building and nurturing a relationship with your child, knowing that it is important for their mental and emotional wellbeing.
Transformational: You are a Dad Coach. You recognize your child's potential, and you take intentional commitment to help them to be the best that they can be.
The Dad Coach is aware that he needs to guide and develop his child in these three areas:
Head: Knowledge
Hands: Skills
Heart: Character
My Actual Experience
Just yesterday, my son was in a low mood, being bored, stuck at home during the pandemic. So, I thought of cheering him up by doing a project together with some recycled wood from a used bed rack. He was elated as we prepared the tools. Truth to be told, I wasn't really confident in this because I myself am not very good with wood. I did some quick research and with gusto, we embarked on building a bench.
We began measuring the wood, and before we saw the wood, I demonstrated to him while giving him the instructions to saw it the right way. As he was about to start sawing, I stopped him abruptly. I corrected the way he placed his leg which was too near the saw. He was a little taken aback (perhaps I was tad too kan-cheong) but continued carefully and slowly.
Halfway through, he got stuck or rather, the saw got stuck. I found myself jumping in to complete the task for him. The next wood, we pretty much went through the same process with a lot of my impatient instructions and sighs to the extent showing unintentional tiny puny disappointment.
The Outcome
As I reflected upon it, what was supposed to be a fun and exciting experience had changed into a stressful project which was driven by perfection of the outcome. He felt bad and didn't want to attempt the third wood. I quickly realized that I had good intention but I was focusing too much on the result, giving Head (knowledge) and Hand (skill) solutions to a Heart (character) problem that he was facing.
He was feeling discouraged, upset and stressed with the expectations from me and not so much of the task itself. I then took a deep breath and let him know that I was sorry for being impatient and that it was ok to make mistakes, the important thing here was not to give up and try again…That's the only way to learn and grow.
He looked into my eyes and felt that I had his back this time and was sincerely wanting him to learn in the process. He instantaneously felt more confident and with a big smile, we completed the project happily and proudly, even though not perfect.
This is yet another big lesson for me as a dad to intentionally operate in the Transformational level, coaching the head, hands and heart towards my children's potential.
Daddies, which level (Transactional, Relational or Transformational) are you most often operating in?
Which area (Head, Hands or Heart) do you focus more when you coach your child?
We can't solve the Heart problem with the Head or Hands solution!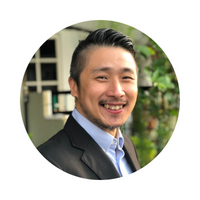 Author: Kelvin Chee
Kelvin is a loving husband and an intentional father of three wonderful kids. If you get to know him, you will very soon find his passion for creating life lessons out of the daily conundrum, and understanding people's second level of thinking for new insights.
In his free time, he is outside playing with the kids or digesting an interesting read (reflecting). And if possible, you will find him on a full turf doing what he loves most — playing football!