Every end of the year, Kel and I would take a few days off for our little couple getaway. We've been doing it for some time now. Let me just say upfront that it isn't always a luxurious romantic location. However, we've never failed to come back feeling recharged and hearts filled.
Of course, it is not always easy to make the effort to get away. I have had my share of guilty feelings for leaving the kids, and sometimes it just feels really indulgent, almost irresponsible.
However, there are just so much more benefits of spending quality time with your spouse that you'll see why we cannot afford NOT to do it.
Here are the 3 main reasons why it's a good idea:
1. STRENGTHENS THE MARRIAGE
When couples get away from their daily lives; the demands of work, children or elderly folk and household stuff, we are able to spend better quality time with each other. The time away will allow us to communicate on a different level, that is spouse-to-spouse, instead of parent-to-parent. Being in a relaxed atmosphere can often lead to renewed connection as we are better able to give each other the attention desired.
Even though Kel and I spend a lot of time together on a regular basis (Can't help it! We work together), but when we get away, there's an additional element of excitement in the air. We can do what we want together, not just what is better for the children or seniors. That shared experience often brings us closer, and makes us happier and stronger.
2. IMPROVES PARENT-CHILD RELATIONSHIPS
When couples reconnect after their own retreat, we come back happier, and more ready to re-join the family. We have more energy to give back to our children and work better as a parent team. Everybody is happier.
When we go away on our own retreat, this sends the message that marriage matters. It says that we are willing to invest in it even if we may face some inconveniences, and have to spend extra money.
At one time, I even remember bringing my breast pumps and milk bottles so that I could still express breast milk during our couple vacation. I had to ensure my "liquid gold" was kept chilled throughout the trip and would last through the flight back and still be good and consumable when we returned. The things we go through!! Oh, but how worth it.
3. IMPROVES PRODUCTIVITY
When we go way at the end of the year, we also take the time to reflect individually about how the year went, what did we learn, and how we will move ahead with the new year.
Kel and I usually go on our own separate ways for half a day. We bring our journals along and we take time to reflect, thank God for the lessons learnt and pray about the direction for the new year. It's often very gratifying and exciting to reconvene and share about the things we reflected on and the goals and plans we have for all areas of our lives the following year.
When we do this, we have a good closure on the current year and we move into the new year with great anticipation and confidence. This helps us both to do things with clarity and focus. Plus, it keeps us both accountable to each other for things that really matter in our lives.
WHY IT SHOULD BE MANDATORY
Going for a couple getaway is a wonderful discipline that we want to practice yearly. There will be all kinds of reasons to stop us from doing it, but when we stop to think of the benefits of going, we should even make it mandatory!! We come back as a happier and connected couple with goals and direction; and the children are happier to receive parents that are ready to lead them; and we are refreshed and ready for the work ahead.
What are you waiting for? Go for it!!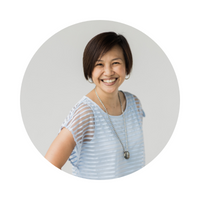 Author: Luisa Yeng
As a Parent Educator and Coach, she finds fulfilment in equipping families with tools and solutions to enjoy their family journey.
When given any opportunity, she hopes to share with married couples and families that you don't have to be a super being to be a hero. All it requires is love, commitment and a workable plan.