Recently, I read a feature article[1] from the BBC on the unexpected ways that children change their parents, and I had to smile. The article definitely struck a chord with me.
It talked about how a child, even unborn, impacts the expectant parents, from the planning and preparation of the baby's arrival to sleep patterns and the indirect increase in coffee consumption! =)
According to the article and research, they come pre-packed with their very own genetic dispositions. However, as parents, through our parent-child relationship building, our role and responsibility would be to uncover what those genetic dispositions are; and help to connect them with values and beliefs we feel are important to nurture them into useful global citizens of the world.
Parenting teens is no longer just about dishing instructions, commands and expectations top down. Teens today will hold parents accountable to the values and beliefs being taught; and if they observe that the parents do not live out those values, i.e. walk the talk, then they will not only shut down and not engage, but hold the belief that the parents are low-key fakes or hypocrites.
Living Our Core Values
When our older two were teens, during a family sharing time one evening, we decided to discuss and identify our family values so that as a family, we would abide by those values in every possible engagement with each other.  We identified Respect, Trust, Loyalty, as our Core Values; and having Fun & being Adventurous, Kind & Loving as part of our family foundations.
Over the years, my husband and I learned to exhibit and practice these values first, and at opportune times, the children would see us walking our talk.  For instance, when the children began to see that Mum & Dad treated each other with respect and trust, they began to inculcate those values into their behaviors as well.
Lessons Learnt
I have to admit that it wasn't always easy for us as parents to constantly set the pace and be the role model, because we are human. We did fall from our standards, lose our cool and be sarcastic on occasion.  However, even in those moments after tempers were cooled, and remorse hit, they would also observe how Mum & Dad would apologize and ask for forgiveness, and those were also precious teaching moments.
Thinking back, perseverance and consistency are two key factors to ensuring that the values we identified as a family were inculcated, and over time of intentional practice, the entire family's belief system evolved into natural behaviors that are now the bedrock of who our children are as individuals.
In conclusion, if I may leave you with three take-aways:
1. Determine the identity, values and culture you want your family to stand for and practice in life – and it's a good idea to have a family discussion so that everyone feels included and will have the sense of ownership in what kind of family they want to build.
Of course, as parents, we will need to take the lead in setting examples/role modelling, but when you have these key foundations identified, it makes family life so much smoother because every member of the family will be on the same page.
Teens today want to feel empowered by their parents to feel that they can contribute to the family dynamics.  Being social media natives, they are actually exposed to so many different elements of good and bad parenting skills, that while they may not be able to identify in specific, but they will know when a bad decision/call has been made.
If we can identify with the values of our workplaces, like being a person of integrity, be a team player, what a good leader should be, etc., all the more reason to bring this same thought process into our homes, minus the formality!
2. Consistency, and perseverance.
The family values must be something that the entire family desires together, and once it's established, support one another.  Don't be quick to jump on them when they slip up. Instead, have a talk about how they could have done better, and likewise, as parents, how you can support them better as well.
Take one day at a time, because it's in the everyday that matters.  And in a flash, you will notice how time has flown, and years have added, and the kids are all grown up.
3. Finally, it's OK to slip up once in a while 
Holding grudges, and more often than not, generational thoughtless and careless words like "Bad son", "You're so useless!", or "Good for nothing" are many a time the stem of resentment and unforgiveness in family ties.  These may sound foreign to you now because I am highlighting them in English.  Recall the time when you were called "sui chai!!", "mou yoong!!" (loose Cantonese translations) or when you called your teens that?
As Asian parents coming from a line of Asian tradition where what the parents says is the beginning and end of all discussions; and that respect is only from the younger to older generation, this has not been the most effective method of parenting, especially given this day and age.
Learning to Apologize to Our Teens
My husband and I have had to apologize to our teens on numerous occasions where we knew we had unfair outbursts on them, and many a time, the fault did not lie with them.  It was usually a case of being frustrated at work, and they happened to say something to trigger us.  Teens are particularly sensitive to these because they feel as if they've been hit by a stray bullet!
Whilst they are still exploring and pushing boundaries of authority and independence, they will respect genuine parental authority when given in love.  They will also only respect parental authority when they feel the parents deserve it, and so we have learned that gaining respect is a two-way street.
Moving Forward
Last but not least, move forward.  Avoid catch phrases like "You always…  ", "You never…  " because these words discounts the all efforts put forth.  Behavioral change is not easy, however with the right encouragement, it can be done, and character forming IS a family effort!
[1] BBC News – The unexpected ways children change their parents https://www.bbc.com/future/article/20220104-how-parenting-changes-you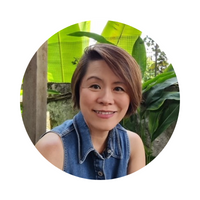 Author: Veronica Soong
Veron is a certified ICF ACSTH & a certified NLP (Neuro-linguistic Program) Practitioner.
Self-proclaimed people watcher, she can happily pass time observing the world and life passing by.  However, she has also become who she is through a strong relationship with her husband, and believes that a thriving marriage requires hard work and vulnerable communication.  Together, they actively engage in conversations that lifts and build strong and intimate marriages, which form the foundations of safe and secured environment for the family.