Every married couple who has been married for at least 12 years knows that marriage is hard work.  If you have been married for less than that, fret not! Hang in there!
My husband and I will celebrate our 25th anniversary this year.  The ups and downs of what we have gone through and are still going through makes our marriage the most exhilarating journey of our lives.
As I reflect, I find these 5 habits to be the bedrock of our marriage:
Patience
Respect
Generosity
Forgetfulness
Never giving up
1. Rome wasn't built in a day!
The love we had for our BF or GF before marriage was only the tip of the iceberg. The real (and tough) love begins after we experience what we can only experience in daily living together.
All the quirks and idiosyncrasies that are so ingrained in us that we don't realize the need to explain ourselves but expect our spouse to accept us anyway.  For instance, my husband's idea of 'cool' for the a/c was 24°!  …And I have to admit, I can get pretty messy in my personal space.
Being married takes adjustments – patience to get to know each other more intimately, and time (often years) to accept the imperfections, differences, and faults of our spouse as they accept ours.
2. Keep the green-eyed monster at bay
Envy, pride, rudeness have no place in a marriage.  Period.
As a young executive, I was doing well in advertising sales.  However, I became a stay-at-home mother for the sake of our children.  My husband climbed the corporate ladder and was one of the youngest to reach a director level of the banking industry during his time.
If I had been envious of his progress, I would have become insecure.  If he had been boastful about his success, I would have become resentful.  Had both of us been successful corporately, our family might not be in such a good state.  Something always has to give.
To make a marriage work, we need to respect and support, encourage and affirm each other.  We each play a role that is vital to the health and well-being of the marriage (and family).
3. Build a "We" Culture
The days of "me, myself and I" are passé not just in a marriage, but as a world at large.  The new world order is sustainability – and we all have to work together for that to happen.  Likewise, in a marriage, there is no room for selfishness.
To build that "We" culture, we need to be generous.  Generosity is more than just about having money.  A working husband with a generous spirit will understand how tiring it is for his wife to be minding the children and tending the household chores all day.  And yet, he makes time for a meaningful adult dialogue with her.
A tired wife with a generous spirit will know that her husband still wants to spend time having a good winding-down conversation to reconnect with her.  These daily pocket of connection points are essential to building bonds and ties with our spouse.
4. Keeping the slate clean!
Aahhh….the bane and pitfall of every marriage is when we keep score of what our spouse hasn't done/said… a forgotten anniversary; the rare "I love you's"; an inappropriate Christmas gift (despite all the hints…), etc.
This is where "forgetfulness" comes in handy.  Forget that one mistake – remember the many good things he/she has done.  The one mistake will only be big if we choose to blow it up.  But if we compare it to the many other times he/she has cheered us up, did touching things, made meaningful memories, it will only be a drop in the ocean.  The choice is ours to make.
5. Giving up is NOT an option – Make it happen!
Imagine holding your nose under water in a swimming pool.  If you let go of your nose, instinctively, you would also push yourself up for air at the same time.  You would not, in good conscience, allow water to enter your nostrils.
The same goes for your marriage.  If you don't give yourselves the option to give up, you will both work together to find a solution to make it work.  Be it trying to work it out on your own, seeking help friends, or professional counseling.
Ultimately, marriage is about the coming together of two individuals with the desire/hope to create one future.   The choice to be patient, respectful, generous, forgetful and to make it happen is always ours to make!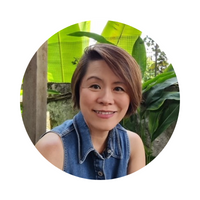 Author: Veronica Soong
Veron is a certified ICF ACSTH & a certified NLP (Neuro-linguistic Program) Practitioner.
Self-proclaimed people watcher, she can happily pass time observing the world and life passing by.  However, she has also become who she is through a strong relationship with her husband, and believes that a thriving marriage requires hard work and vulnerable communication.  Together, they actively engage in conversations that lifts and build strong and intimate marriages, which form the foundations of safe and secured environment for the family.